Samoa Adventure
Booking Dates
03/04/2021 through 06/09/2022
Travel Dates
03/04/2021 through 06/12/2022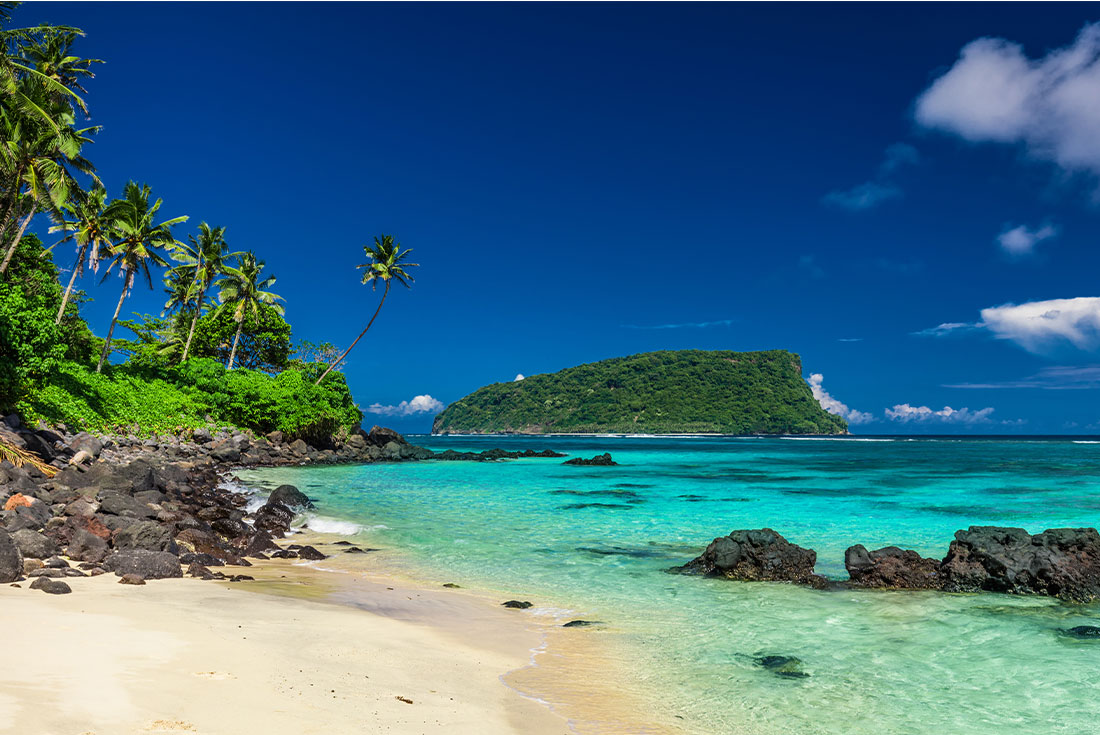 Samoa Adventure

Between snorkeling over colourful coral reefs teeming with wildlife and plunging into pristine waterholes below hidden waterfalls, this is one destination where you don't want to forget to pack your swimsuit! But Samoa is not solely about the beautiful natural gifts that the islands have on offer – spending time learning about the traditional culture and village-life is equally enjoyable. And on this trip, you'll get the chance to do a mix of both with fully guided day tours around different parts of both islands, as well as time to yourself to relax and unwind. You'll spend some nights in traditional, waterfront villas known as fales, which are positioned as close to the ocean as possible, so you'll go to bed with the hush of the ocean sending you to sleep.

Activities
Apia – Papase'ea Sliding Rocks
Apia – Mailelani soap workshop visit
Apia – Robert Louis Stevenson historical home
Apia – Bahai house of worship
Apia – Palolo Deep Marine Reserve
Apia – Handblocked textile workshop visit
Savai'i – Salelologa Market visit
Savai'i – Alofaaga Blowholes
Savai'i – Afu Aau Waterfall
Savai'i – Cape Falealupo half day tour
Savai'i – Canopy tree walk
Savai'i – Ancient Star Mound
Savai'i – Saleaula Lava Fields
Savai'i – Manase Beach
Poutasi – Traditional games & cultural activities
Poutasi – Fire knife demonstration
Poutasi – Traditional village welcome
Poutasi – Customary feast
Lalomanu – Fia Fia Night
Lalomanu – Sopoaga & Togitogiga waterfalls
Lalomanu – To Sua Trench
Upolu – Vava'u Beach
Highlights
In the beautiful Samoan language Fa'a Samoa literally means 'The Samoan Way'. The phrase refers to the Samoan culture and traditions that influence the lives of many Samoan people and you'll experience this for yourself in an immersive village tour, but also as your local leader introduces you to the culture and traditions throughout the trip.
Stay right on the beach in traditional Samoan villas, known as fales, that allow you to get as close to the ocean as possible.
Make the most of the pristine water and slide down a natural rock slide into the waterhole at Papase'ea, visit the stunning sandy beaches such as Vauvua and Lalomanu and snorkel in Palolo Deep Marine Reserve teeming with tropical fish and coral.
Be amazed by the ancient Star Mounds in Cape Falealupo, one of Samoa's most sacred places, and the remains of the Virgin's grave, the LMS Church and stretches of lava rocks which are evidence of the destructive eruption in 1905.
Enjoy a fiafia night, a traditional celebration of dance, costumes, music and feasting on dishes that are cooked in a traditional umu oven using hot volcanic rock.
Itinerary
Destination
Pricing
Terms and Conditions
| Day | Description | View All |
| --- | --- | --- |
| Day 1 | Apia | Details |
| Day 2 | Apia | Details |
| Day 3 | Savai'i | Details |
| Day 4 | Savai'i | Details |
| Day 5 | Savai'i - Lalomanu | Details |
| Day 6 | Poutasi Village - Lalomanu | Details |
| Day 7 | Lalomanu | Details |
| Day 8 | Lalomanu | Details |