Walk Hadrian's Wall Highlights
Booking Dates
11/25/2020 through 10/14/2021
Travel Dates
11/25/2020 through 10/17/2021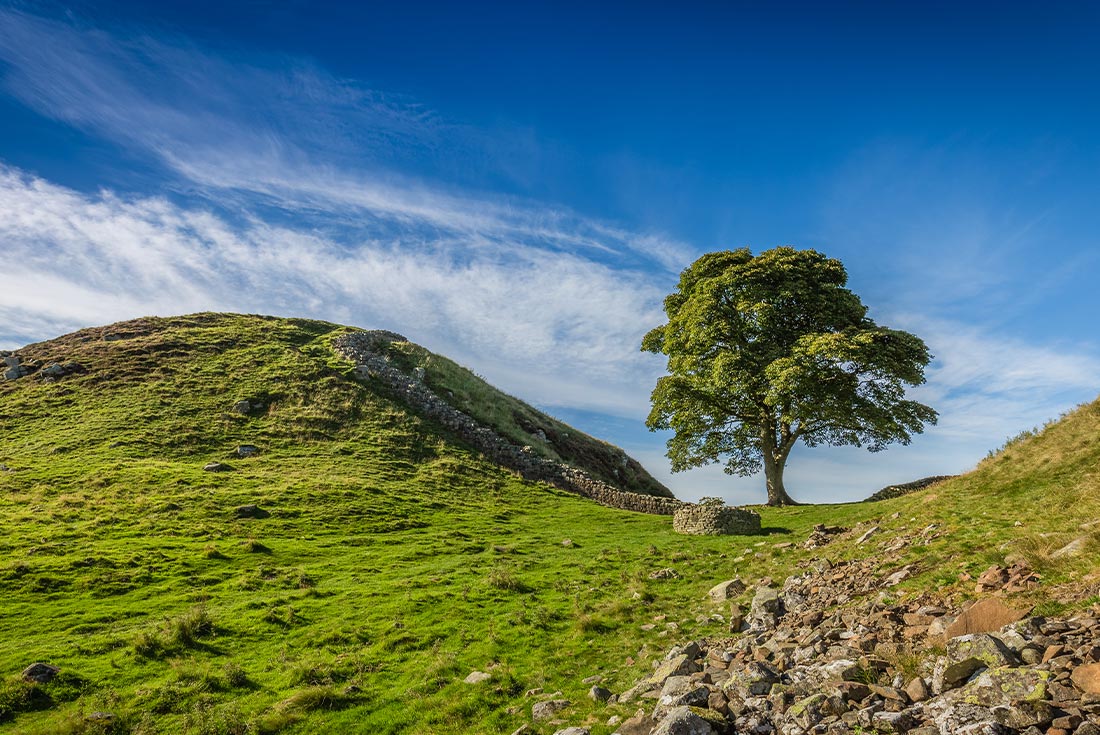 Walk Hadrian's Wall Highlights

A Roman reminder spanning coast to coast across the north of England, Hadrian's Wall is a historic spectacle of emperor Hadrian's reign in the once Roman province of Britannia. Now, this Wall, along with a number of ruins dotted along the way, provides the trail to follow for a seven-day exploration of pre-British history on two feet. Trekking from the western outpost of Carlisle to the eastern reaches at Heddon-on-the-Wall nearby Newcastle upon Tyne, spend a week following one of the richest examples of Roman history in the United Kingdom. Walking at a reasonable but not strenuous pace daily, stopping by quaint English villages and staying in comfortable twin-share accommodation, this guided Hadrian's Wall walking adventure is the ideal way to discover well-preserved sections and the surrounding countryside.

Activities
Carlisle – Birdoswald Roman Fort
Crag Lough – Sycamore Gap picnic lunch
Bardon Mill – Housesteads Roman Fort
Cholleford – Leader-led town walk
Chollerford – St. Oswald's in Lee Church photo stop
Chollerford – Heavenfield Battle Site
Chollerford – Rudchester Roman Fort
Highlights
Hadrian's Wall walking trails are well developed and full of Roman history. With a local guide leading the way, you'll gain a true insight into this piece of history often overlooked by travellers in England.
On two separate occasions, admire the stark beauty at Sycamore Gap. Known as the Robin Hood tree, enjoy an included picnic lunch nearby and retrace your steps the next day to see the scene in the morning light.
Take your time to discover important spots along the way, with an included visit to Birdoswald Roman Fort and a stop Fort at Housesteads, learning of the tales of the Wall.
Walking every day doesn't mean you're going to be ruined like the remains along the trail. With a well-designed itinerary, the prevailing winds behind you plus some time at leisure in Cholleford, you'll be trekking with ease.
The English countryside has never looked so good. While the focus is Hadrian's Wall on this itinerary, your eyes – and camera – will be occupied each step of the way by the lush landscapes of northern England.
Itinerary
Destination
Pricing
Terms and Conditions
| Day | Description | View All |
| --- | --- | --- |
| Day 1 | Carlisle – Walton | Details |
| Day 2 | Walton – Gilsland | Details |
| Day 3 | Gilsland – Once Brewed | Details |
| Day 4 | Once Brewed – Chollerford | Details |
| Day 5 | Chollerford – Port Gate | Details |
| Day 6 | Port Gate – Heddon-on-the-Wall | Details |
| Day 7 | Heddon-on-the-Wall | Details |